The design and communication house Keppens provides serious solutions for numerous brands. Physical packaging is also an essential part of brand communication.
This was also the case for the coffee brand Rombouts. Rombouts was faced with the challenge of introducing a new line to the market, namely compostable filters. These filters allow consumers to enjoy the sublime taste of their coffee, with the advantage that it can be made anywhere with the addition of hot water and the filter itself is 100% compostable.
During a design process Keppens Design & Communication called on our team and technology to make the packaging even more tangible. By making the design lifelike in an early phase through Augmented Reality, they managed to remove any doubt or misinterpretation. Every decision-maker in this process was able to assess the new packaging in its original size. Whereby they had an interactive object presentation in 3D on computer, but could place it in any environment on the move as well. This way the design team was able to show the packaging to the producer in a digital and scalable way, without any proofs, whereby it could easily be placed in a store environment.
Do you also want to work with AR during your design process or add this interactive layer to your product? Feel free to contact our team.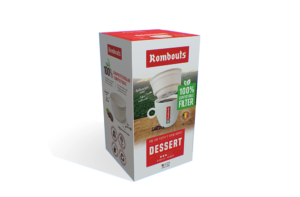 Watch in AR
Ideale omstandigheden: via Safari op je iPhone/iPad en via Google Chrome op je Android-toestel